Relax in our newly renovated and breathtakingly beautiful on-site dressing room, The Wisteria Suite, as featured in Coco Wedding Venues.
Tucked away next to The Orangery, The Wisteria Suite is the perfect location to get ready with your loved ones during your special day.
It's exclusively yours for the duration of your wedding, with access from 9am until midnight, so you can pop back whenever you like for outfit changes or make-up refreshments. If you're having your ceremony with us, you'll also be met here by your registrar and celebrant, alongside your dedicated wedding coordinator.
You'll find The Wisteria Suite to be a calm and serene space that's flooded with light. Every corner has been carefully considered to ensure you have the most beautiful backdrop for your getting-ready photos, with soft furnishings, blush hues, and dried floral displays.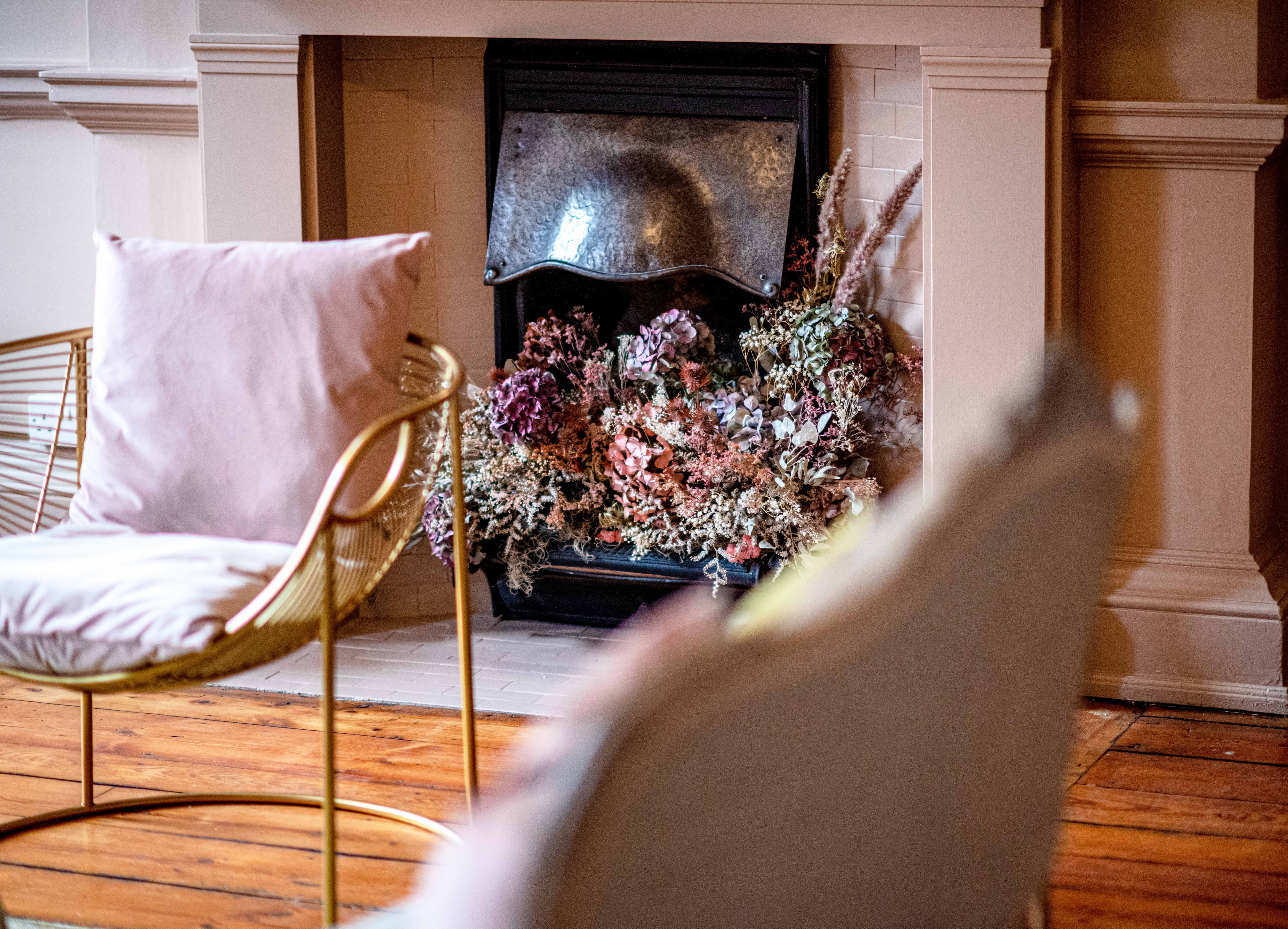 Book a breakfast delivery
£15 per person, minimum 4 guests
It's vital you eat something on the morning of your wedding day, especially if your wedding breakfast isn't taking place until late afternoon.
Delivered by hand to your dressing room, our wedding day breakfast is designed to be light and easy to eat. Enjoy a selection of pastries, fresh strawberries, and elderflower presse. After your breakfast, pop a bottle of prosecco and raise a toast to the special day that lies ahead.
To book, simply contact your wedding coordinator at [email protected]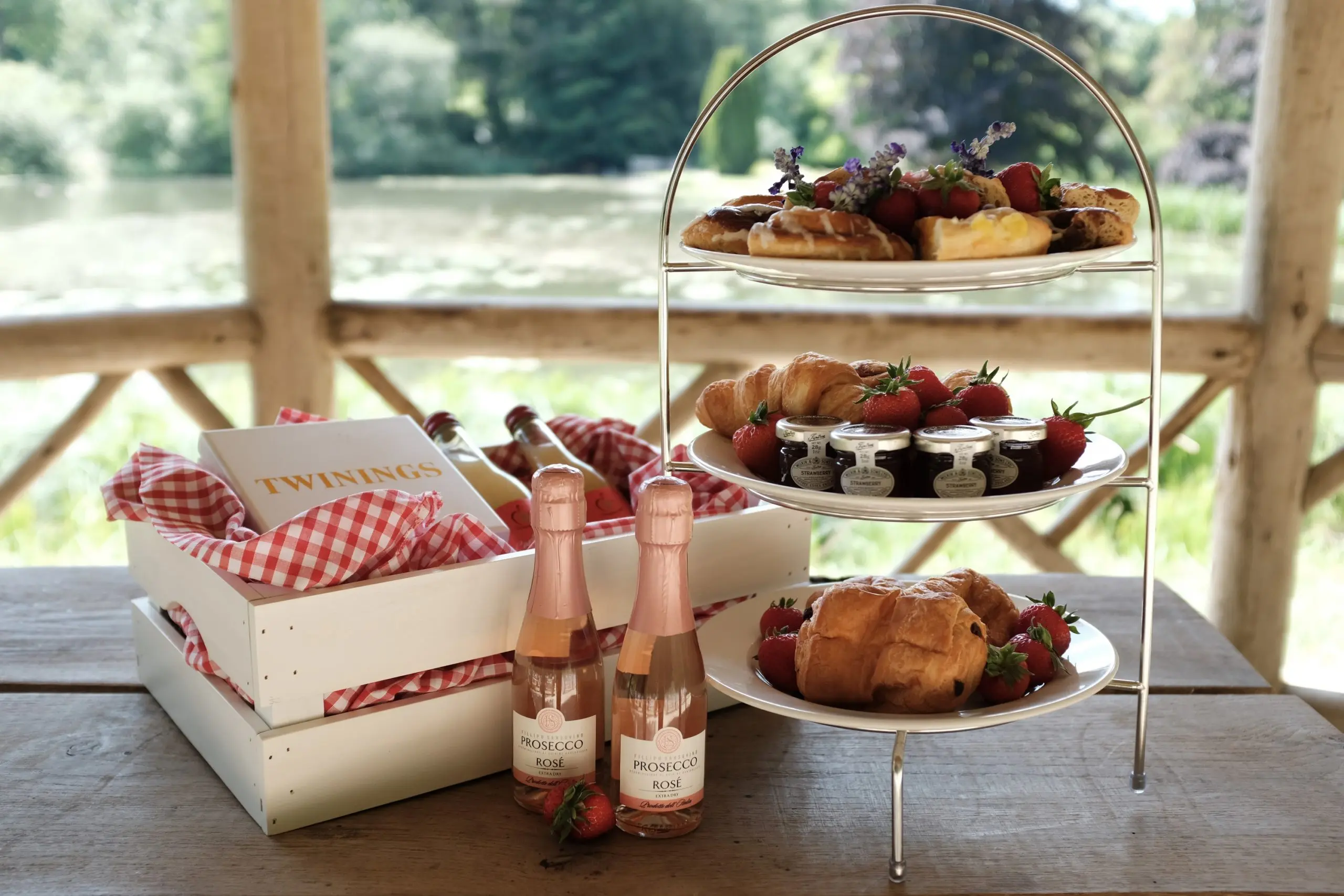 Frequently asked questions
What time is access to and from?
Access to The Wisteria Suite is from 9am until midnight. However, if you want to start getting ready earlier, we can open for a small service fee, which can be discussed with your wedding coordinator.
Do we have to pay to use The Wisteria Suite?
If you booked your wedding at The Orangery from 1 Jan 2022, your package will include your use of The Wisteria Suite.
What facilities are included?
The Wisteria Suite includes seating for eight guests, two make-up chairs, a screened dressing area for privacy, a tea and coffee station, and an ensuite bathroom. Please note, there are no shower facilities.
Will any guests see us getting ready?
The Wisteria Suite is completely private and secluded when you're inside the property. We recommend staying indoors from the 30 minutes before your guest arrivals to prevent any sneak peeks.
Can we leave our bags in The Wisteria Suite?
Yes, you can leave your belongings in the Wisteria Suite as long as the room is cleared by midnight. On the day of your wedding, your wedding coordinator will provide you with a key to come and go as you please.
Why is it called The Wisteria Suite?
Each spring, the building blooms in beautiful wisteria flowers. It's a great idea to flag this with your photographer if you're getting married at The Orangery between late April to mid May.
Can we bring our own food and drink?
You are welcome to bring your own food and drink. Tea and coffee facilities are provided on site, and we also offer a breakfast delivery with prosecco for £15 per person (minimum 4 guests).
How many guests can fit comfortably?
Between 10-15 guests before it starts feeling a little crowded.
Can we use The Wisteria Suite if our ceremony is off-site?
Even if you are having a church wedding, you can get ready at The Wisteria Suite and leave from The Orangery.